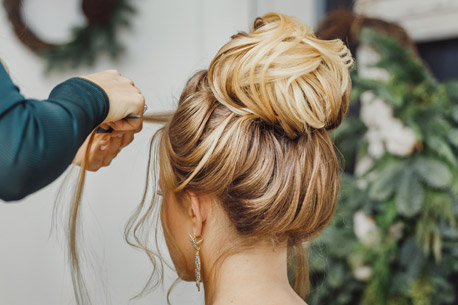 Your hair salon in Geneva
Our 2 hair salons are dedicated to your beauty and well-being. We offer you a real quality service.
Our hairdressers have been working for many years in the beauty industry and are dedicated to their clients.
They offer classic or very original haircuts, highlights, as well as various coloring techniques, including ombré. The satisfaction of our customers is our priority. You can therefore count on our team to bring your desires to life!
CHILDREN & TEENAGERS
CHILDREN
| | |
| --- | --- |
| Cup for children 0-6 years | 25.- |
| Boys, 7-11 years old, shampooing/cutting/styling | 35.- |
| Girls, 7-11 years old, shampoo/cut/brush | 60.- |
TEENAGERS
| | |
| --- | --- |
| Boys, 12-16 years old, shampooing/cutting/styling | 40.- |
| Girls, 12-16 years old, shampoo/cut/brush | 80.- |
MISCELLANEOUS
| | |
| --- | --- |
| Supplement from the shoulders | +10.- |
COIFFURE
SHORT HAIR
| | |
| --- | --- |
| Shampoo and Brushing | 50.- |
| Shampoo, Cut and Brushing | 90.- |
| Shampoo, Color and Brushing | 115.- |
| Shampoo, Color, Cut and Brushing | 155.- |
LONG HAIR
| | |
| --- | --- |
| Shampoo and Brushing | 60.- |
| Shampoo, Cut and Brushing | 100.- |
| Shampoo, Color and Brushing | 125.- |
| Shampoo, Color, Cut and Brushing | 165.- |
KERATIN AND PERMANENT SMOOTHING
| | |
| --- | --- |
| Medium-length hair | 350.- |
| Long hair | 450.- |
MISCELLANEOUS
MEN
MEN
| | |
| --- | --- |
| Shampoo and styling (shampoo, anti-hair loss lotion or friction and styling) | 39.- |
| Shampoo and Cut (shampoo, lotion or friction and styling) | 50.- |
| Shaving (shaving, hot compresses and facial lotion) | 40.- |
| Beard trimming (dry beard trimming) | 15.- |
| Complete (cut and shave) | 85.- |
| Coloration of wicks (color or decoration) | 60.- |
| Manicure | 35.- |
| Eyebrow waxing | 15.- |